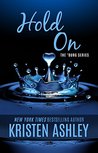 Since she was young, Cher Rivers knew she was not the kind of girl who got what she wanted. A girl who could hope. A girl who could dream. She knew a happily ever after just wasn't in the cards for her.
In love for years with the last bastion of the 'burg's eligible bachelors, Garrett Merrick, Cher worked hard at making him laugh. Being one of the guys. Having him in her life the only way she could. All this knowing he was in love with another woman.
The Merrick Family is known for loving deep. So when Cecelia Merrick was murdered, it marked the Merricks in a way none of them recovered. Both Cecelia's children found love. Both turned their backs on it. But Garrett "Merry" Merrick knew in his soul the woman he divorced years ago was the one for him.
Until the night when Cher took Garrett's back and things changed. The Merrick family loves deep. They also protect fiercely. And with his eyes finally open, Garrett sees the woman who truly is for him and he goes after her.
Kerry's 5 star review
Give me a second to stop crying so I can review this amazing book! I am beyond gutted that this is the last book in the burg series but it went out with a bang. I loved Cher and Merry I think this is the first Kristen Ashley book I have read that there has been no fight from the woman to not be in the relationship, at first I didn't like it but Cher knew what she wanted and went for it! Totally badass. I wanted to read this book slow as it was the last in the series and to be honest didn't want it to end! I got a little worried when Merry started to panic about anything happening to Cher I thought he was going to end the relationship. But the talk he had with his dad was amazing it gave them both the closure they needed about the death of his mother for him and his father. The constant banter between Cher and Merry was so good I couldn't stop laughing.
Kristen Ashley again knocked out another 5 star read. I loved it all there is really nothing I can fault about this book. That epilogue I cried the whole way through reading it I had to stop as I couldn't see my kindle screen,Ethan's speech swoon! I would recommend this book to anyone it has everything humour,love,loss,betrayal I laughed out loud and cried like a baby!