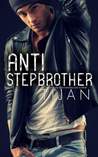 He told me to 'settle, girl.'
He asked if 'something was wrong with me?'
He said I was an 'easy target.'
That was within minutes when I first met Caden Banks.
I labeled him an *sshole, but he was more than that. Arrogant. Smug. Alpha.
He was also to-die-for gorgeous, and my stepbrother's fraternity brother.
Okay, yes I was a little naive, a tad bit socially awkward, and the smallest amount of stalker-ish, but if Caden Banks thought he could tell me what to do, he had another thing coming.
I came to college with daydreams about being with my stepbrother, but what if I fell for the anti-stepbrother instead?
Kerry's 5 out of 5 star review
Going into this book I was blind. I have heard lots about it I didn't read the blurb so when we heard about Kevin I was like for real?? Kevin no alpha male can be called Kevin and then be turned out to be a dick I couldn't understand Summer wanting anything to do with him!
And then in steps Caden!
Oh yay now we are talking! I devoured this book in one sitting once I got on board with Caden. The sexual tension between Caden and Summer was so hot I could barley handle it.
Summer is absolutely hilarious I don't think I have ever liked a female character so much.
This book is full of laughs, drama and too much heartbreak it's awful but Tijan wrote it all so perfectly I loved every minute of this book.
I can't wait to read more books by this author and I will be recommending it to anyone who will listen to me for more than two seconds.