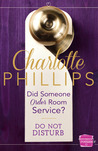 Did Someone Order Room Service?
by
Charlotte Phillips
Has American Tennis Pro Matt Stanton finally found his match in uptight hotel employee Layla Jones? Find out in this deliciously naughty novella - the second book in the Do Not Disturb Series!


Claire's Review 4 of 5 Stars
This was a lovely fast read and perfect for a beach read on holiday! I loved Layla as a character and watching her develop from the careful, reserved type to the girl throwing caution to the wind. Matt's character also developed a lot within the story when he realised his shallow celebrity life style was everything and that underneath that celebrity mask he has the same need to feel accepted as Layla.

I really enjoyed this read, the only thing I would have liked to see is for Layla to have put up more of a fight near the end. I also found the book finished rather abruptly and would like to see more elaboration on Layla and Matt's relationship and future. Would definitely recommend this though as a summer read and will definitely be checking out more of Charlotte's books.