About The Author
APRIL WHITE has been a film producer, private investigator, bouncer, teacher and screenwriter. She has climbed in the Himalayas, lived on a gold mine in the Yukon, and has read the entire Harry Potter series three times; once to herself and twice out loud to her boys. She and her husband share those boys and their home in Southern California with their dog, various chickens, and a lifetime collection of books. April wrote her first novel, Marking Time, because it's what she wanted to read, and now needs to finish the five-book series so she can find out what happens next. More information and her blog can be found at
www.immortaldescendants.com
.
Follow Links
Books and Buy Links
Marking Time
Seventeen-year-old tagger Saira Elian can handle anything... a mother who mysteriously disappears, a stranger who stalks her around London, and even the noble English Grandmother who kicked Saira and her mother out of the family. But when an old graffiti tag in a tube station transports Saira to the 19th Century and she comes face-to-face with Jack the Ripper, she realizes she needs help after all.
Saira meets Archer, a charming student who helps her blend in as much as a tall, modern American teen can in Victorian England. He reveals the existence of the Immortals: Time, Nature, Fate, War and Death, and explains to Saira that it is possible to move between
centuries – if you are a Descendant of Time.
Saira finds unexpected friendships at a boarding school for Immortal Descendants and a complicated love with a young man from the past. But time is running out for her mother, and Saira must embrace her new identity as she hides from Archer a devastating secret about his future that may cost him his life.
Tempting Fate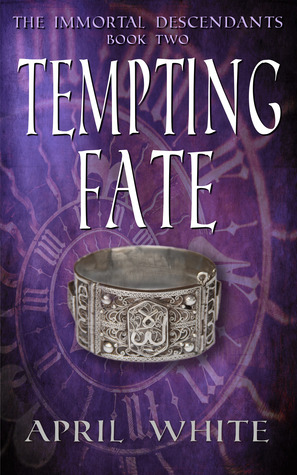 Seventeen-year-old Clocker, Saira Elian is back on the run and being hunted by Mongers. The Descendants of War are amassing power in the 21st century, bent on controlling all the Immortal Descendants. Their attempt to kidnap Saira, a rare Descendant of Time and Nature, reveals just how brazen they've become. Archer, the vampire who has loved Saira for over a century, is willing to risk everything to protect her.
When a horrific vision reveals Ringo, thief and loyal companion from 1888, being tortured at the hands of the bloodthirsty Bishop Wilder in a Renaissance prison, Saira and Archer realize there has been a ripple in the river of Time, and they must travel to 1554 to find its source and save their friend. Their rescue mission lures them to the Tower of London, site of the most notorious executions in history, where they encounter the mysterious Lady Elizabeth who is confronting a terrible fate of her own.
The time-traveler, the vampire, and the thief will need all of their skills and ingenuity as they race against time to steal a document that could change the course of history and put the Immortal Descendants at the mercy of the Mongers. Can they stop a madman bent on collecting the blood of history's most powerful Seer before the executioner's axe falls?