About this author
Sinead was born and raised in Dublin where she grew up surrounded by books. Her mother is an author of children's books. Growing up, Sinead says she was inspired by watching her mother writing at the kitchen table and then being published. From that moment on, her childhood dream was to write a novel.
After university, she went to live in Paris and then London. It was at the age of thirty, while working as a journalist in London that she began to write creatively in her spare time – after work, at lunch times … and, truth be told, during work hours.
After a couple of years toying with ideas, she joined a creative writing group and began to write The Baby Trail. The bitter-sweet comedy of a couple struggling to conceive hit a nerve in publishing circles. It was snapped up by Penguin Publishing in the UK and Ireland and has, to date, been translated into twenty languages.
Since writing The Baby Trail, Sinead has moved back to Dublin where she lives with her husband, two sons and baby girl.
http://www.sineadmoriarty.com/
The Baby Trail
Makeup artist Emma Hamilton is thirty-three when she and her husband James decide it's time to start a family. She has it all mapped out: Go off the pill in December, have sex, get pregnant by January, have the baby in September. With the help of a personal trainer, she figures she'll be back to her fighting weight in time for Christmas. But when three months of candle-scented sex fails to produce the desired result, Emma decides that maybe Mother Nature needs a helping hand. Soon her life is a roller coaster of post-coital handstands (you can't argue with gravity), hormone-inducing (sanity-reducing!) drugs, and a veritable army of probing specialists (torturers, more like). It's out with alcohol and spontaneous sex, in with green tea and ovulation kits. Emma and James try everything from fertility drugs to in vitro, but all their carefully laid plans seem to go south -- along with Emma's rapidly plummeting self-esteem. The members of her support team are unquestionably loyal, but distracted by their own personal dramas. There's Babs, her younger sister, who prescribes Emma half an Ecstasy pill to treat her depression. Her friend Jess is pregnant with her second child and gives Emma an earful about the downside of motherhood. The glamorous Lucy, Emma's closest pal, fears she might be stuck in her "single rut" forever -- that is, until she meets Donal, a rough-around-the-edges rugby player who passes out on their first date but quickly proves that he is worth a second chance. And last, but certainly not least, is James, Emma's rugby coach husband, who quite unhelpfully manages to give himself a groin injury just when she is ovulating. But just when Emma feels as if her obsession may have alienated all of her loved ones, including James, events take a ninety-degree turn that will have unforeseen consequences for everyone. Sinead Moriarty brings a wicked sense of humor to a subject of feverish concern for women worried by the loud ticking of their biological clocks in this sizzlingly funny, yet deeply moving novel.
Amazon UK
/
Amazon US
A Perfect Match / The Right Fit
After two years of being deafened by the ticktock of her biological clock and tormented by Mother Nature's refusal to grant her a baby, Emma Hamilton decides to go for the instant solution: finding a Russian baby in need of a home. But Emma hasn't reckoned on the route to adoption being so complicated. Between proving that she's fit to be a mother (by inventing an unblemished past and discovering an unsuspected talent for housekeeping), driving her long-suffering husband insane with madcap schemes to make them the perfect would-be parents (a few Russian verbs a night and they'll be fluent in no time), and tripping over red tape every step of the way (who knew social workers could be so terrifying?). Emma finds out that adoption is far from the easy option - and that perfection has very little to do with finding the perfect match.
From Here to Maternity
Delicious, funny and touching final installment of Emma Hamilton's struggles to become a mother. Just as Emma and her husband James become parents of eight-month-old Russian baby, Yuri, they also find out that Emma is pregnant. Emma discovers that having her dreams come true brings a whole new set of problems as she is faced with well-meaning friends and family – and not-so-well-meaning maternity nazis – telling her how to be a mother. Only her wonderful calm long-suffering husband, a mad family that makes her look like the down-to-earth sensible one, and fantastic friends whose lives are even crazier than her own, keep Emma from losing it, and in the end she comes through with her usual mix of humour, good-natured hysteria and real heart.
In My Sister's Shoes
Kate O'Brien is 30 and has very little to think about except trying to keep her balance as she totters up London's media-land ladder. Fiona O'Brien is Kate's responsible older sister - with a husband, twin boys, a dog and now - a life-changing problem.
Amazon UK
/
Amazon US
Keeping it in the Family / Whose Life is it Anyway?
It's tricky for Niamh O'Flaherty, growing up in a North London home that's a shrine to all things Irish. But it's even trickier being an adult and realizing that her family expects her to settle down with a nice Irish lad, especially now that she's living in Dublin. When Niamh finally meets the love of her life he is the last person she would expect to fall for her. Pierre is older and an intellectual, but she loves his ability to laugh at himself, his calmness and strength of character, and, of course, his stunning looks. There's just one problem: if Pierre's parents - Jean and Fleur - are sniffy about their pride and joy hooking up with a girl who writes a fluffy newspaper column, her parents, Mick and Annie, are going to go ballistic when they hear that their daughter intends to marry someone who couldn't be less Irish if he tried . . .
Pieces of my Heart
Ava is juggling a life that seems to have too many pieces. She is trying to do the best by her family, but feels like she's running on empty. But when a crisis threatens everything she holds dear, she realizes she has to dig deeper than ever before and figure out a way to hold on to the pieces of her heart.
Me and My Sisters
Julie used to be the easy-going sister. But now she's mother of four boys under five, her marriage is under strain and she is struggling to keep sane. She needs support, but her sisters don't understand. After all, their lives are perfect. The Devlin sisters think they have little in common. They might just be in for a surprise.
Amazon UK
/
Amazon US
This Child of Mine
Anna and Laura, Sophie and Mandy - two mothers, two daughters and a story about the bond of motherly love. Anna is proud of the job she has done raising eighteen-year-old Sophie. It's always been just the two of them, but that doesn't matter because Sophie has everything she could ever need. It's a miracle that Laura's daughter Mandy is as happy as she is, considering that Laura remains haunted by the loss of her first child before Mandy was born. Both women carry painful secrets and can never forget the day their paths crossed. But a chance discovery is about to bring everything into the open, and mothers and daughters, love and lies, past and future, will spectacularly collide...
Mad About You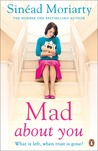 Emma and James Hamilton have weathered lots of storms in their ten-year marriage. From the heartbreak of infertility, to the craziness of then becoming parents to two babies in one year, to coping with James losing his job, somehow they have always worked as a team. However, the pressure of moving from Dublin to London for James's new job - away from familiar surroundings and the family Emma loves - puts them under stress like never before. So when James starts getting texts from a stranger - texts that show startling insights into their lives - Emma is not sure what to think. She is far from home, isolated and before long finds herself questioning everything about their relationship. Maybe those texts are telling her the truth and the life she believed to be solid and secure is just a mirage. Somehow she has to get a grip, but how can she do that when a stranger is set on driving Emma out of her home and her marriage?