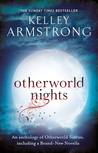 This short story collection will include many brand-new tales and others only previously available on Kelley Armstrong's website. Most of the stories will feature the werewolves of the Otherworld, Elena and Clay, Jeremy, Karl and other members of the American Pack. These are some of Kelley Armstrong's best-loved and most enduring characters, from bestselling books such as
Bitten
,
Stolen
and
Frostbitten
.
1)
Demonology
- Adam's mother discovers what he is
2) Stalked - Clay/Elena honeymoon story from "
My Big Fat Supernatural Honeymoon
"
3)
Hidden
- SubPress 2012 Elena/Clay novella
4) Twilight - a Cass story from "
Many Bloody Returns
"
5) Chivalrous - Reese's backstory from SubPress's long sold-out "
Tales of Dark Fantasy 2
" (the Dec'14 SubPress graphic novella picks up this storyline)
6) Lucifer's Daughter - Hope/Karl story from "
Blood Lite II: Overbite
"
7) From Russia with Love - Elena bonus story included with hardcover of "
Thirteen
"
8) Vanishing Act - brand-new Savannah/Adam novella set after "
Thirteen
"
(less)
Shona's review 5 of 5 stars
How can I not give this 5 stars? Some of my most favourite characters are in these books and I get to see a different side of them that hasn't been possible until now. Yes I have read some of these stories before, but honestly I can not get enough of this world that Armstrong has built.
Who would walk away from seeing just a snippet of Adam when he was a youngster, before he found out he was half demon?
Or seeing what life was really like for Cassandra when she isnt surrounded by the other supernaturals.. This is a great chance to get a sneak peek inside her head. And I loved it.
The best part of this book for me? Was most definitely Hidden. Seeing Clay and Elena interact with the kids was, for me, one of the best things ever. You get to see a real whole other side to Clay when he's with his kids and it is jaw dropping. This one actually had me teary eyed by the end.