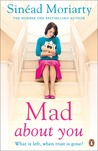 Mad About You by Sinead Moriarty
Synopsis
Emma and James Hamilton have weathered lots of storms in their ten-year marriage. From the heartbreak of infertility, to the craziness of then becoming parents to two babies in one year, to coping with James losing his job, somehow they have always worked as a team.

However, the pressure of moving from Dublin to London for James's new job - away from familiar surroundings and the family Emma loves - puts them under stress like never before. So when James starts getting texts from a stranger - texts that show startling insights into their lives - Emma is not sure what to think. She is far from home, isolated and before long finds herself questioning everything about their relationship.

Maybe those texts are telling her the truth and the life she believed to be solid and secure is just a mirage. Somehow she has to get a grip, but how can she do that when a stranger is set on driving Emma out of her home and her marriage?
Lisa's Review - 5 out of 5 stars
This is the second book of Sinead Moriarty's that I have read, and I think she is quickly becoming one of my top chick lit authors! I am slightly annoyed that I didn't do a little more research on this book before picking up and reading it, as after finishing I discovered that Mad About You is part of a series of books, and this is the 4th instalment! That said, not once did I feel like I had missed something huge from a previous book, it was easy to pick up and jump straight into as a stand alone book. I just now need to get myself copies of the first three books as I enjoyed this one so much I need to read them!
I have just devoured this book in the last day, it was so good I struggled to put it down, and if I could have taken it to work with me I would have done! Emma has two small children, an adopted son, and a daughter that they called a miracle baby, and a husband who recently lost his job as a rugby coach in Ireland, but has taken a new job in London, meaning upheaval for the whole family, moving from Dublin to a whole new country. Emma has no friends, knows nothing about the area, and has to move away from her parents. The only people she knows is her younger, brash sister, and her in laws. She goes through the usual kind of battles any one would go through having to move that far from home and settle in somewhere different - settling in two young children at playschool, finding a new job, dealing with a barely there husband who is trying to prove himself at work. Life is made a little easier when she befriends two neighbours and gets childcare help in the form of sweet, shy Claire. But just when she thinks things are getting easier, along comes a stalker.
Although I loved Emma, and there were countless points throughout the story where I totally empathized with the realistic ways of life, there were times where I would have liked to give her a firm shake, but the more I thought about it, I thought how real it was. Most women are not 100% secure, even in the longest of marriages, and do some crazy things when they are feeling insecure, and that fact made me warm to her even more.
The other characters were just as great - James, Emma's husband - what a lovely guy! Trying to prove himself at work to ensure a more secure future for his family, he is a hard working family guy, and I really felt for him at several points throughout the book. Emma's friends, old and new were hilarious characters, and the families of Emma and James were a brilliant mix of people.
Although the ending was slightly predictable to the reader, it wasn't to the characters and that helped make the ending better. I really enjoyed it, I do wish I had known about the previous three books before reading this one as I think I would really enjoy them, and now I am going to have to go find them to read them in order and re read this one again!
This is Sinead Moriarty's 9th book, and I plan on reading the other 7 I have missed out on so far!
Links
Goodreads
Sinead Moriarty
Purchase Links
Amazon UK
Amazon.com
KOBO